Instagram has grown to an astronomical 1 billion monthly active users as of June 2018, and most recently, announced a new feature where businesses can sell directly through their platform. It's no secret that Instagram has a lot in store for the future.
It's important to understand the scope of Instagram before you optimize the page for success. Your Instagram channel should be leveraged as an extension to your online business. It should compliment your website theme, and your messaging should be aligned across all your social channels.
If you're unsure if your business is achieving this, here's a few questions to ask yourself:
What is my business about?
What are my business's values and mission?
Why should a viewer trust my business?
Is that reflected with my Instagram marketing strategy?
Now that we have the basic covered, how can we generate awareness, traffic, and even sales through Instagram? Here are 10 Instagram business tips to help your brand grow online.
1. Creating a Username
This is absolutely the very first thing a person sees when they land on your Instagram page. This is how people will be interacting with you on Instagram, through messages, comments, and replies.
If your business name is unavailable as your handle, try using an extension or even a phrase associated with your brand that will do the job. It's important to note that you should try to keep your username consistent between all social media platforms. That's because if someone were to search your social media handle, they can now connect with you on multiple online levels.
2. Create a Bio That Hooks Your Followers
Your bio is probably the second thing a viewer sees, after your Instagram handle. This is going to be your introduction. What is it that you want your viewers know?
Don't rush to fill a giant paragraph in your bio, chances are, no one is going to read more than a handful of words.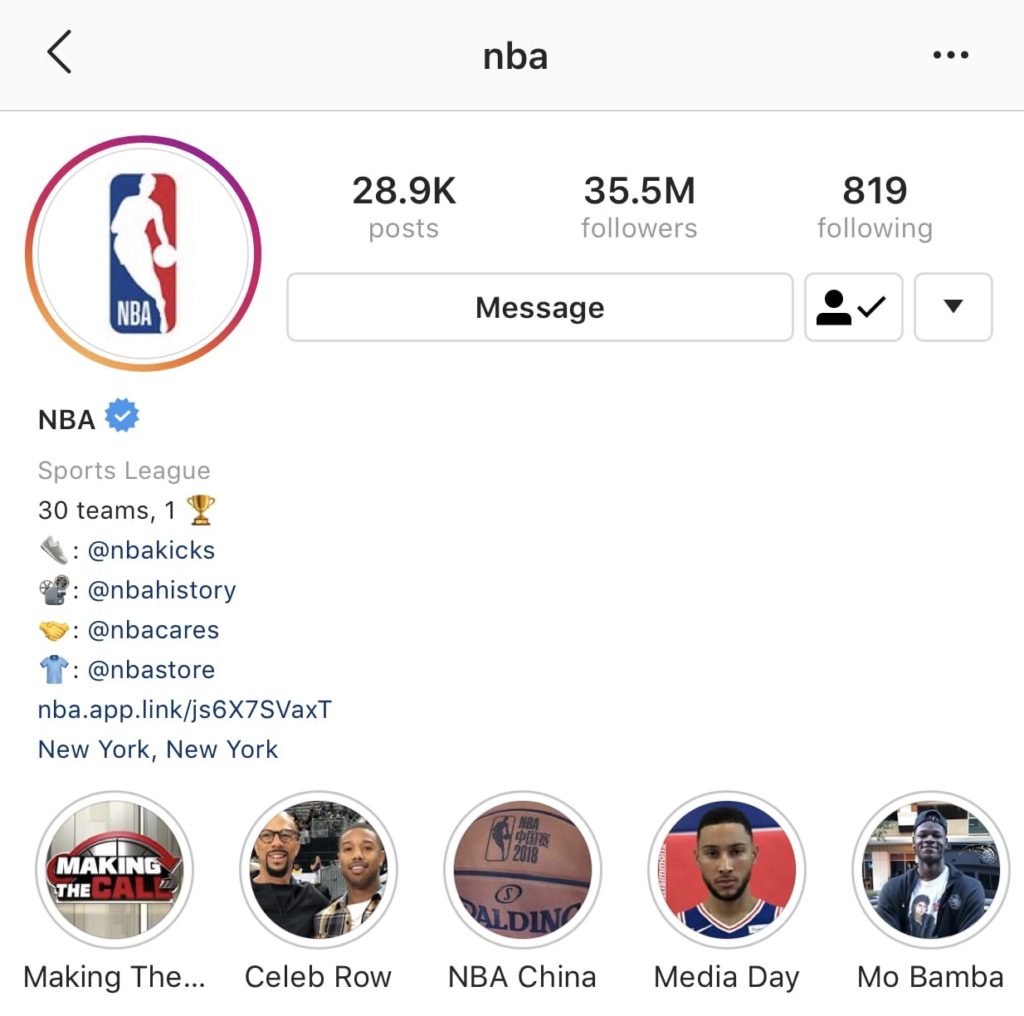 The NBA does a good job by almost creating a table of content here. Do you want to check out their NBA Shoes page or shop their store page? Look no further than their bio.
Note: Although Instagram Highlights aren't part of the bio, they do sit directly under it. These highlight change order as you add and update them (newest changes come first.) When optimizing your Instagram profile for your business, consider what highlights you want the viewers to see first.
3. Picking a Profile Picture
This may be a no-brainer, but you would be surprised at the number of business accounts who either forget to put a profile picture or have an unoptimized image.
On Instagram, you're given 180×180 pixels for your profile picture. Most businesses put their logo in here, but if you decide not to, make sure the image you do put is consistent with all your other social channels. You don't want the viewer to be confused before they even scroll through your Instagram Feed.
A great tool to have in your digital marketing arsenal is a tool called Canva. Here, you can optimize your images for whatever platform it might be, all for free!
Marketing tip #1: If you decide to use your company logo as a profile picture, you can make variations of the logo for different seasons, holidays, or special offers, with the goal of generating engagement with the viewers.
4. Linking to Your Website in Your Bio
If you have less than 10,000 followers on Instagram, adding a link in your bio is a must. (Users with more than 10,000 followers are able to hyperlink in their Instagram Stories.) Instagram automatically hyperlinks this, so when someone clicks on it, it opens the URL (but it's doesn't hurt to use a short URL.)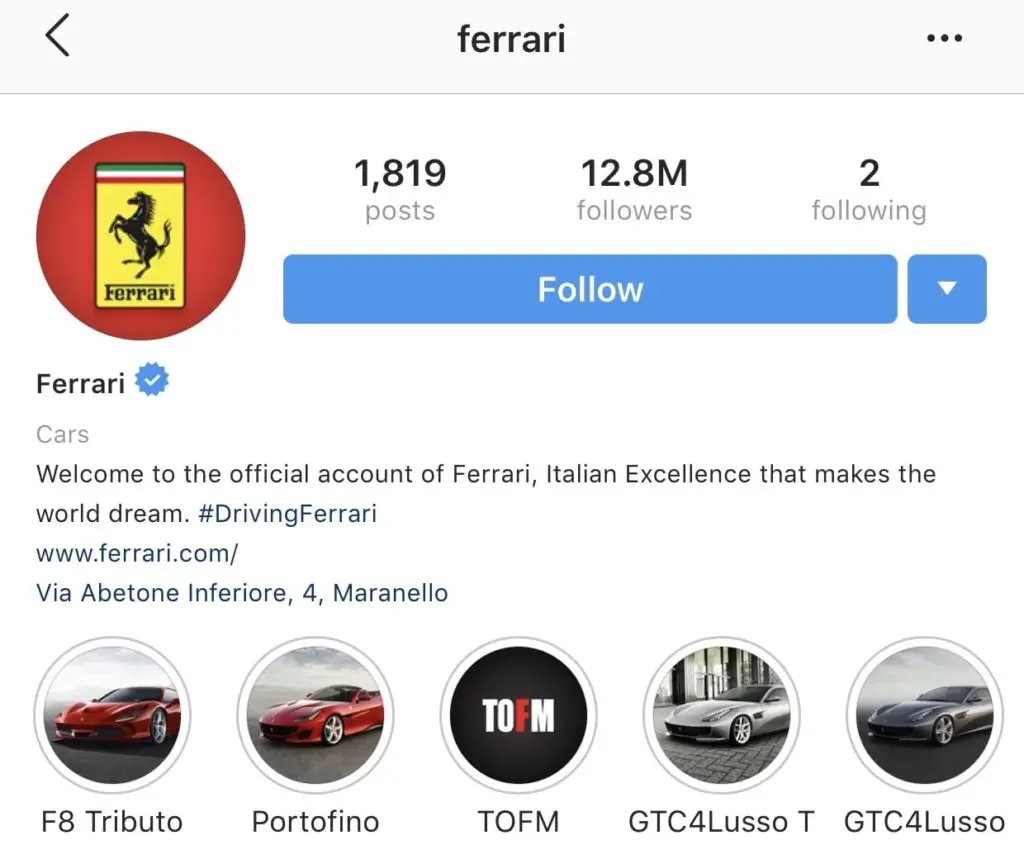 Unlike Facebook and Twitter, Instagram doesn't allow links in photo captions and comments. Including a link within your bio may be your only chance to direct a customer off of Instagram and onto your website.
Marketing tip #2 : If you don't have a website, you can also use this spot to link to your Twitter, Facebook or any other social platform that you want to show your followers.
Marketing tip #3 : If you want to promote more than one link, try a free tool called Linktree. It's one link you can put in your bio, which directs a visitor to a library of more links. Click here to check it out.
5. Soft Selling to Appeal to the Instagram Culture
Instagram was originally a platform that was made to share pictures among friends. Since it's inception, it's become something even bigger. The one thing Instagram isn't used for is to run annoying, spam filled ads.
How would you feel if you're using Instagram to scroll through your friends' pictures, and then you see an annoying ad for weight loss? Chances are, you're going to mute or block that account.
The good news is, you can still sell on Instagram in multiple ways without being so overtly annoying.
The first way is to use influencer marketing. In this tactic, you pay someone with a large and engaged following to promote your product with a positive review. Since they have an audience that trusts them already, selling into this audience is easier and quicker than 'cold selling' on Instagram (if implemented correctly.)
The next way to sell on Instagram is to connect your website's product pages to Instagram. Check out the image below.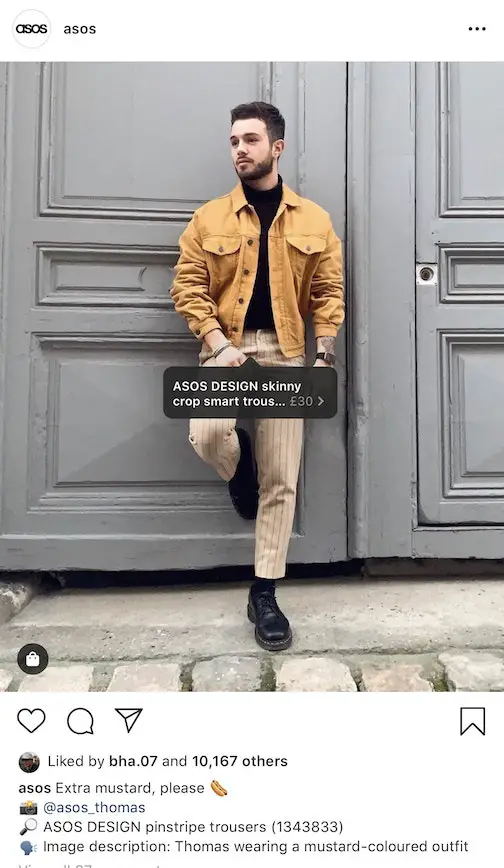 With Instagram tapping into the eCommerce world, we can assume this feature will be readily available to all brands later this year.
6. Be Unique
According to this 2018 report, when people hear information, they're likely to remember only 10% of that information three days later. However, if a relevant image is paired with that same information, people retained 65% of the information three days later.
Taking that statistic into consideration, adding a level of uniqueness is the recipe for Instagram success. When publishing posts, some things you can add are your latest and upcoming products, behind the scene images, or maybe even user generated content!
The goal here is to show you followers that you're human too, and not just some robot posting images for the sake of posting.
7. Use Promotions as a Tool to Gain Followers
41% of Instagram users have said they would follow a page if it offered exclusive content and offered promotions. So why not give them what they want?
One simple way of doing this is by running Instagram contests. The tactic may seem easy (and it is) at first, it's requires a lot of strategic planning. Some benefits of an Instagram contest include generating quick and targeted mass awareness, generating online engagement, and uncovering your most engaged followers.
Marketing tip #4: When running a promotion or contest on Instagram, be sure to mention users have to follow your page in order to be eligible. This is one of the easiest ways to get targeted followers on Instagram.
You can also simply promote discounts exclusively to your Instagram followers. Posting something like "Use code 'Instagram' to save 10% on your next purchase" encourages users to visit your product page, and incentivizes them to buying since they have an exclusive coupon code.
8. Use Hashtags to Increase Your Reach
With 95,000,000 photos shared on Instagram per day, it's easy for your images to get lost in the noise. On top of that, Instagram removed chronological order, so the chances of your images being at the front of your followers' feed decreases even more.
Hashtags are a way to help slow down your post's "expiration date." What we mean by this is that hashtags are basically used as Instagram keywords that get grouped together. When searching for images with that hashtag, your post would be hyperlinked to that specific keyword.
It's important to limit your hashtags to just 5, as engagement with posts more than 5 starts to decline. If you're unsure which hashtags to use, checkout websites like Iconosquare and Hashtagify that will give you statistics to which hashtags do and don't work. 
9. Use Geo-Tags to Promote Your Business
Geo-tags are an Instagram feature that allow you to add a location to your images and work similarly to hashtags. Once added, your images are aggregated together.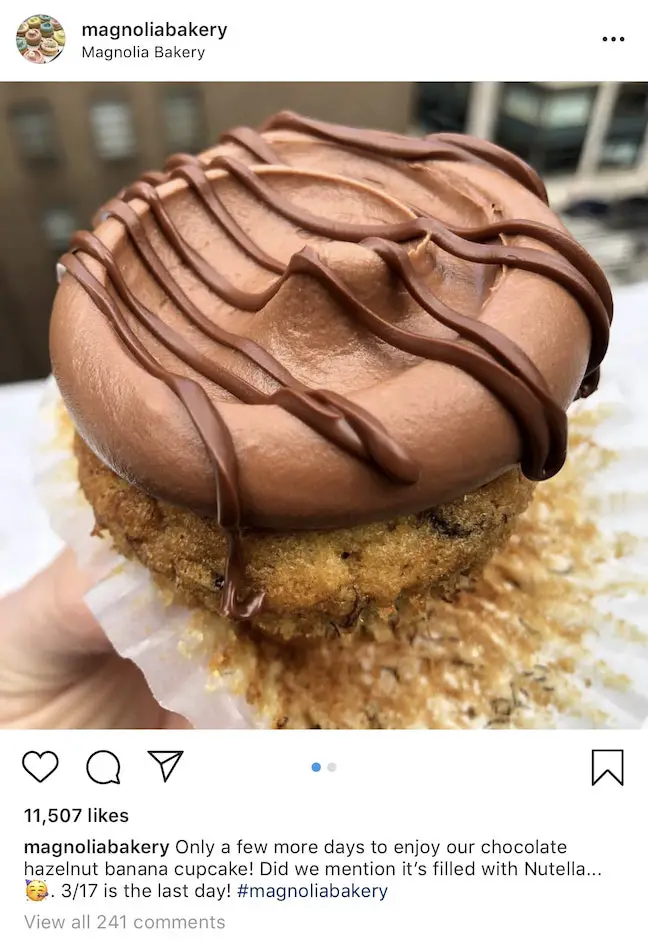 Most businesses overlook this simple feature. In fact, only 5% of posts share a location, and businesses who do use geo-tags receive 79% more engagement on their photos than those who don't.
Geo-tags can have numerous benefits including finding user generated content, help viewers find the location of your business, and increase your Instagram discoverability, which can lead to new customers!
10. Schedule Your Posts for Optimal Reach
If you're like most business owners, you probably don't have a lot of time to dedicate to Instagram. Third-party tools now allow you to schedule posts in advance to help clear up your schedule. For example, Hootsuite is an all inclusive social media tool that can schedule posts for Instagram, Twitter, and Facebook.
To use these tools, simply input the photo and caption, and all you'll have to do is schedule a time to upload. You don't want to slack off on posting, since that could lead to a decline in followers.
---
Have any questions or comments? Leave them below! If you'd like more of our marketing insight, be sure to subscribe to our weekly newsletter!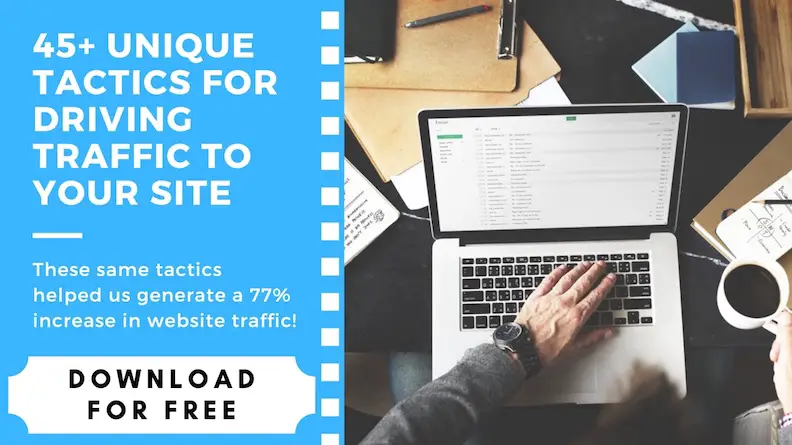 ---
Recommended Reading: