Starting a business isn't easy, and learning how to start a business is even harder. If it was easy, then everyone would be doing it! The first 30 days of your new business are like a new President's first 100 days, it's when the pressure is the toughest and it's critical to get things rolling.
Unfortunately, out of the 550,000 people who become entrepreneurs every month, only a handful become successful. But don't fret, that's why we created this post – to share actionable insights and help you make more money from your side hustle!
Businesses that give up either don't have any sort of direction or get too overwhelmed because it was all getting to be "too much" (trying to eat the elephant in one bite.)
We know what it's like to be in that position, so we created an easy to follow guide on how to start a business from scratch in under 30 days. Have your new, profitable business up and running in under one month!
Day 1 – Set Your Goals
This is the most important part of starting your new business.
Not your website, not starting an email list, and not even publishing your blog posts. This!
Most entrepreneurs are excited with the idea of learning how to start a business, which it is, but they forget to set a sound foundation and just jump right in.
This is a recipe for disaster…
Take a sheet of paper and a calendar and start to map out exactly where it is you want to be by the end of the month. No goal is too small or too big, this is just the starting point. You might realize you're trying to do too much (like generating a million dollars your first month,) or too little (only publish 2 blog posts in 30 days.)
It's okay to have more than 1 goal. Here's some questions you want to consider to help your brainstorm.
How much traffic do I want my website to generate at the end of 30 days and what would it require to get there? (Content, website traffic, website setup, etc.)
Did I create a list of keywords I want to start ranking for? If so, how many pieces of content is it going to require to get me there? What kind of traffic would I need for Google to notice my new site?
How many leads do I want to generate by the end of my first 30 days? What will that require in terms of a lead capturing tool, funnel creation, etc.?
This will act as the blueprint for moving forward. As you add more and more goals, you'll start to see where things overlap. This should highlight opportunities for you to grow your business more efficiently. (Rather than just doing "stuff" for the sake of it.)
Now you might be thinking "Yeah okay set a goal I get it… off to Day 2, I'm already ahead!" Not quite…Now you have to plan each of your next 30 days.
What am I going to need to achieve my goals? If I don't hit my daily and weekly goals, how will this affect my 30 day plan?
It's important not to rush this part as it could literally make or break your business. A vague goal without a plan will generate minimal results.
Take the full day, kick back with a cup of coffee or tea, and really focus on where it is you see yourself in the future, and what is required to get there.
Expert Tips About Starting A Business
"My best tip for finding blogging success is to follow your fun. We all have access to the best practical tips through top blogging blogs, through courses, eBooks, videos, forums and all types of other tools. Yet 81% of bloggers never make more than $100 online. Why? They don't follow their fun." – Ryan Biddulph (Click here to check out more tips from Ryan!)
---
"The cornerstone of a successful blog is content.


You'd think that should be obvious, but judging by fact that mediocre content seems to be taking internet into a chokehold, it's not.


A successful blog is not about not whom you know, who knows you, how many social media followers you have, how well-optimized it is… All those things are important, but they can get you only that far without worthy content to support them." – Ana Hoffman (Click here to check out more tips from Ana!)
---
"My best tip for finding success with blogging is all about unique content through the substance itself and the personality behind it. Whether you're blogging for yourself, as an organization, or on behalf of a company, it needs to be differentiated enough to stand out in today's content-saturated environment." – Harris Schachter (Click here to check out more tips from Harris!)
Additional Resources
Day 2 – Build Your Target Audience
When you learn how to start a business, you'll want to have a specific audience you want to reach, engage, and interact with. These users are going to be the same people who will read your content, buy your products, and help grow your business.
Here's an exaggerated example – a car tire center isn't going to market after boat owners… Right?
So who are the people you want to do business with? Who do you think you can help with your expertise and knowledge?
This is where creating an audience persona really helps. Personas are fictional representations of your ideal customers. They help you understand your customers (and prospective customers) better, and make it easier for you to tailor content to the specific needs, behaviors, and concerns of different groups.
Start by identifying:
Their demographics (age, location, gender, etc.)
How they spend their time online (research, news, entertainment) and where do they reside (social media, blogs, sites etc.)
What problems or concerns are they currently trying to solve
What value do they expect from you
What are some points of objection your audience might have to working with you
The point here is to understand your target audience better than they know themselves. What are their pains, needs, and interests? What solution will you be providing to help them?
For examples on an audience persona, check out this article by Alexa Blog (owned by Amazon.)
Day 3 – Run a Competitive Analysis
No matter how big or small your business is, there is virtually no company that has zero competition. The first step here is to find out who it is you are competing with exactly. Perform a Google search on your topic/niche and see who the main players in your industry are.
Are there any emerging companies that might pose a threat now or in the future? How many notable competitors do you have that are going after the same exact audience?
Make a list of all the brands you find, and rank them by top 3, top 5, top 10; any way you like.
So now that you know your competitors, what should you be looking at?
Before we jump in to that, this whole process could easily take days. But this is where marketing tools help save time.
This is where a robust competitive analysis comes in. While you can manually search for most of the things on the list below, you will ideally need a tool. Try to find out:
How much traffic are they getting? (Similarweb, SEMrush, Ubersuggest)
What are the sources of that traffic? (Similarweb, SEMrush, Ahrefs)
What keywords are they ranking for? (Ubersuggest, SEMrush, Moz, Ahrefs)
What kind of content are they creating? (Buzzsumo)
How are they using social media? What types of posts, post frequency, follower count, and engagement do they have? (SEMrush)
Are they using paid advertising? (Ubersuggest, SEMrush, Adbeat)
What is the look and feel of their website? Is it easy to navigate? (manually)
What kind of lead generation tactics are they using? What do their CTAs and Forms look like? What kind of information is being asked? (manually)
Tools that can help you include: Similarweb, SEMrush, Moz, Ahrefs, Adbeat, and Ubersuggest. These provide massive amounts of insight, and will be of tremendous use for you later on with other elements on this list.
Out of the 6 tools we mentioned Ubersuggest is the only one that's free and might be a good start for you to start to glean some insight.
How Ubersuggest works
This tool is free, so it won't cost you a penny but it will give you a ton of value. To get started, simply enter the URL of your top competitor. In this example, let's stick to the tire shop.
In this example, we used tirerack.com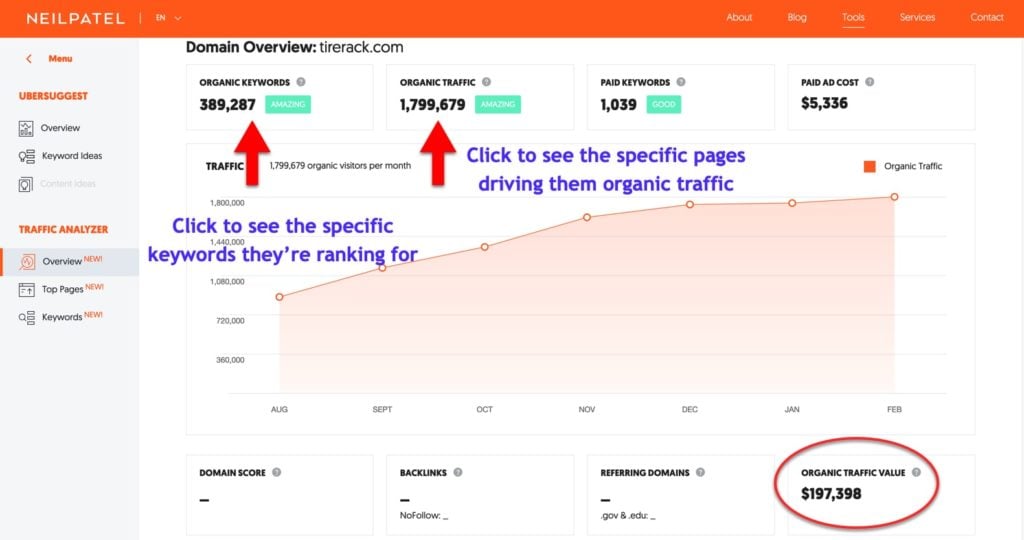 However, to take some of the other tools for a test drive. Most if not all have free trials to their software.
Now that you have all the data about your competitors, you can clearly gauge the performance of each one.
This will help you dissect their strategy. What are they doing? How is their site, social channels, and blog laid out?
Is it working for them? Why is it working and how can you replicate it?
Don't fear competition; learn from it! Learn from their success, their failures, and find opportunities you will be able to exploit later on.
Expert Tips On Why You Should Use SEMrush To Run A Competitive Analysis
"There really isn't a tool that comes close for competitive keyword research. With the Guru package, you even get historical keywords rankings, so you can see how your competitors have triumphed or faded over time. These days, it's developing into much more than just keyword research." – Joe Williams (Click here to learn more about Joe!)
"SEMRush has long been at the forefront of keyword research technology, and is fantastic for competitive research. Being able to view your competitors' top keywords is invaluable, and the Pages section, which shows organic traffic data for the top performing pages on your competitor's site, makes this tool instrumental in any campaign." – Ben Avenell (Click here to learn more about Ben!)
"In a lot of ways, SEMrush and Ahrefs cover similar areas. They both provide Keyword research and backlink analysis functionality. They can both give you an idea of which keywords your competitors rank for. I use SEMrush mainly for rank tracking because I can view rankings for my main keywords alongside where my competitors rank. Not specifically competitor research related, but still useful; SEMrush have brand monitoring functionality and a social media tool that tracks your social media engagement/audience." – Adam Connell (Click here to learn more about Adam!)
Day 4 – Find "Winnable" Keywords
Remember the tools we mentioned yesterday? Well now it's time to use them to find "winnable" keywords for yourself. These are the phrases that your audience will use to find you.
You already know what keywords your competition is using to rank on Google, and you already have your persona set. By combining these two elements you can start to brainstorm potential long tail keywords and phrases you will need to start adding to your website and blog posts to make them "findable."
A winnable keyword is defined as a word or phrase that has:
Over 100 monthly searches
Has a difficulty score of below 55%
Is relevant in both context and intent with your audience's pains, needs, or interests.
Using Ubersuggest and our tire shop example, let's say we want to search for the keyword "new tires" since that's something our target audience would be searching for on Google.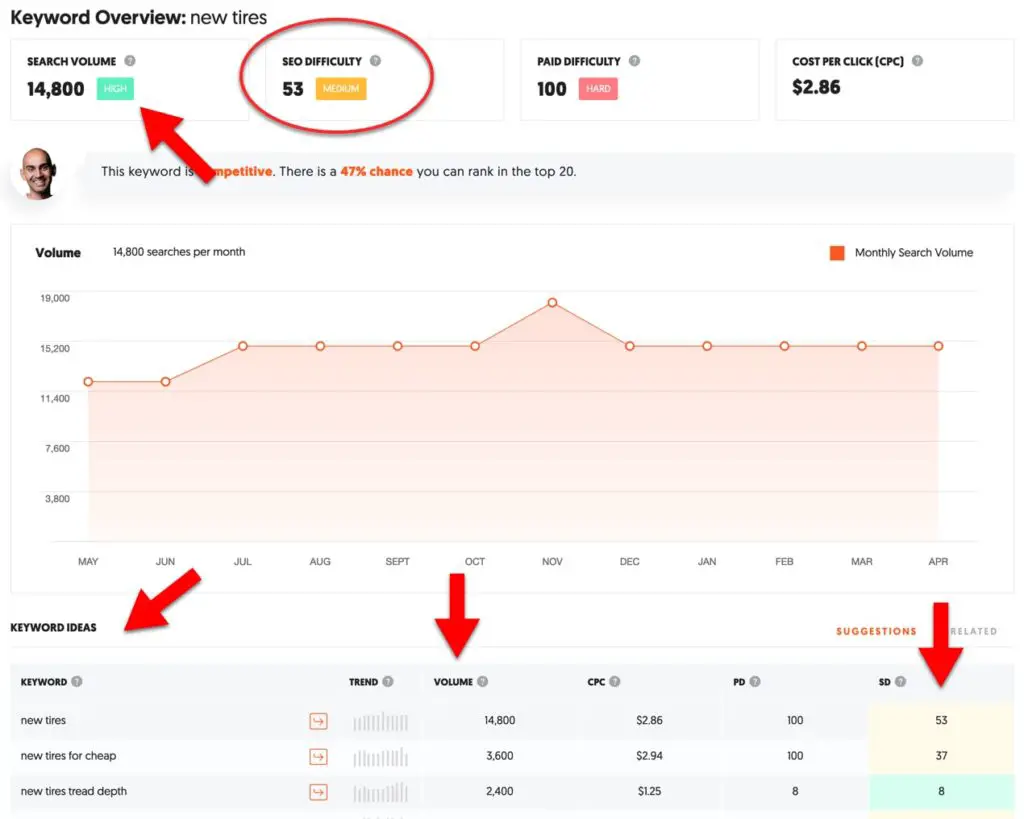 Instantly, we can see the term is searched over 14,000 times per month, has difficulty of 53, and even shares some other keyword suggestions!
Using this information, you can now build out your content marketing strategy. You can make: blog posts, specific posts on your website, or even sit on this insight until we're ready to publish our new business on social media.
Additional Resources
Days 5 – 7 – Build Your Website
We hit the final day of the first workweek, and we are now ready for the fun stuff. It's now time to create your domain name, website, and blog.
Start off by thinking of a good domain name. Ideally, this should include a winnable keyword IF possible. If it's not possible, don't worry too much, just make sure you're using something that represents your brand and is easy to remember,
A good site for purchasing the domain name of your choice is godaddy.com or bluehost.com
Next it's time to find a hosting platform. Without this your site has nowhere to sit, and thus won't exist!
There is a plethora of hosting platforms out there. If you don't know which one to pick, we found Bluehost to be the easiest to use, and with the greatest bang for your buck. They also have a seemless integration with WordPress, so setting up your site takes literal minutes.
Now, at long last, it's time to build your website. Since Bluehost has a direct integration with WordPress, we recommend going with that. Its free, beginner friendly, and has integrations with the most popular tools and hosting services.
Click here to get your WordPress checklist for free!
Day 8 – Use Marketing Tools for Automation and Analytics
Remember some of the tools we used to analyze what our competitors were doing? Now it's time to create an arsenal. These will be a life saver later on, especially once your new business starts to grow. (When you start scaling, it becomes hard to maintain everything, and doing it manually is just impossible.)
Some of these tools are free, while others will require some form of payment, but rest assured that the insight they provide greatly exceeds their cost.
Monitoring and analyzing your performance
The tools in this category are similar to those used for your competitive analysis. We added some additional free tools to help out:
Finding keywords
Email
Content creation
Social Media Management and Monitoring
Additional Resources
Day 9 – Set Up Google Analytics (GA)
Among the plethora of tools that provide in depth, high value insight for free, Google Analytics (GA) reigns supreme, and its not only us saying this, marketing experts all over the world love it too, with some using nothing  but GA for performance tracking.
Click here to set up Google Analytics for your website.
Despite its many benefits and advantages, GA does have one pretty big "flaw"  especially for beginners; it can be overwhelming.  As new GA users, you know that it's useful and that it provides information, but you might also have questions. These questions are shared by all beginners, (even ourselves when we first started using it.)
While we won't go into deep details about Google Analytics today, here's a quick snippet of what you can expect from this free tool.
Additional Resources
Day 10 – 12 – Create Content
It's time to start writing posts to publish on your blog. Your visitors will understand your site is new, but they still need some content to browse through in order to get an idea of what it is you have to offer in terms of content and value.
Start by brainstorming a few topics around the keywords you found. What kind of content can you create that will help your audience solve a specific problem or interest they might have?
Once you're done brainstorming, pick the titles/topics you like the most and start creating a content calendar. This will help you stay on track and guide you for the next months in terms of planning and creating.
Once your calendar is complete begin creating. Ideally you want to have a few posts ready for your audience to read but we know time is a really valuable commodity. Start by creating 2-4 posts, and then take it from there…
Bonus tip: Keep one thing in mind "People care about their own problems much more than they care about your products." So your content needs to focus on delivering value. Always create with a purpose.
Additional Resources
Day 13 – Optimize for On-page SEO
What is Search Engine Optimization (SEO)? This is a term you have probably seen before but what does it truly mean?
SEO is a series of actions website owners can take in order to "optimize" their pages to be more attractive to search engines such as Google. The easier it is for Google to crawl and rank your site, the easier it will ultimately be for your target audience to find you. (Click here to see the complete list of Google's 200 ranking factors.)
So what do you need to do? SEO consists of two categories, on-page and off-page. Today we are going to look at the first category.
On-page SEO refers to elements on your website that you can optimize to increase your organic visibility. Remember the winnable keywords you found before?
It's now time to use them to their fullest. In order to fully optimize your pages you will need to place these keywords in:
Your titles
Your URL
The headers throughout your page/post
Image alt tags (search engine crawlers cant see images, so you will need to add a title to each one of you images to help crawlers understand what the image is about)
The body of your page/post (make sure they fit in naturally throughout the text)
Anchor text in internal links to other relevant pages or posts on your site
Your meta tags – This is the abstract or summary, of the page and is often your first chance to catch your audience's attention.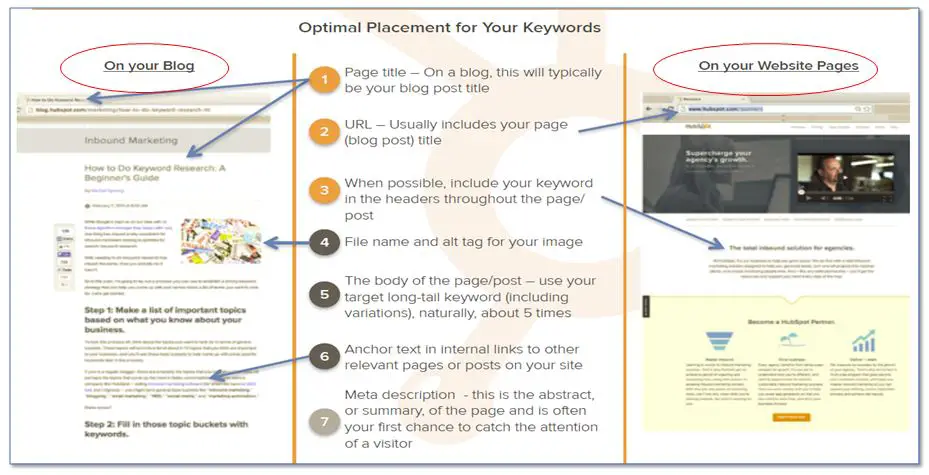 Additional Resources
See How Your Website's SEO Ranking for Free
Simply enter your URL below to get your free SEMrush report!
Day  14 – Optimize for Off-page SEO
Contrary to on-page SEO, off-page SEO has to do with optimization elements that reside externally (not on your pages.) The most common element here is link building (or backlinking.) This is the process of acquiring hyperlinks from other websites to your own site, pages, or blog. The more links from high ranking websites, the better your site will look in the eyes of Google.
It might sound confusing but in essence it's pretty simple. The easiest way to begin is to just create high quality content. The more researched, valuable, and quality driven your posts are, the greater the chance of them being linked back to by other websites. This is not only great in showing Google that your content is perceived as authoritative, you also get exposure from the referring websites' audiences. Win-Win.
Other ways you can generate links back to your site include:
Creating infographics
Industry reports
Quizzes
Content in the form of lists, guides, and tutorials
Off-site SEO is a long term, ongoing process. The more quality driven content you create the better.
Bonus tip: Not all links are created equal. Generally you want to receive backlinks from sites that are also perceived to be of high quality. Lower quality, spammy, and sites with questionable or inappropriate content will hinder your performance and reputation so be sure to disavow them. We will get into this a bit more later.
Day 15 – 16 – Social Media Marketing
This is another fun kind of day. It's now time to start setting up your social profiles.
Once again the persona we created earlier comes into play (see how important it is? It constantly keeps coming up. This is why having a solid foundation makes all the difference when starting you new business or side hustle.)
Before you begin creating profiles it's important to know where your audience hangs out the most, and what do they do? Start by answering the following questions:
On which social media platform does my target audience spend most of their time? (Facebook, Twitter, Instagram, YouTube, LinkedIn, etc.)
How many hours a day do they spend on social media?
What kind of posts to they like to see (plain images, links, videos etc.)
What would make them engage with my post (like, share, comment.)
What time of day do they frequent the platform?
How many times a day to they visit the platform?
Note: Granted without a survey, some of these questions will be impossible to answer, but for the most part make an educated guess.
So now that you have the answers to these questions you are ready to start creating social profiles. This is a great opportunity to show your audience a bit more about yourself and your brand. Be sure to have an appealing photo, concise but detailed description, and any website or blog links easily visible.
Having said that, don't make your social channels all about you. Ideally you want them to be a medium for promotion, engagement, but most of all, a platform where your audience can find value.  Be sure to tailor your posts to their liking, and always try to make them stand out.
Honestly we can write a book around this day alone. Check out some other articles below for more help, and be sure to leave any questions in the comments if you would like us to dig in a bit deeper on social media strategies
Additional Resources
Days 17 – 22 – Create Your Funnel
"How can I get new customers from the Internet?" This is one of the most common question new entrepreneurs ask when starting a business.
Your business will grow at a much slower rate if you're unable to capture leads and promote your services through email. To start off, you'll need to create a marketing funnel.
Unbounce.com defines a marketing funnel as, "A model describing the various stages of a prospect's journey from the first interaction with your brand to the ultimate goal: conversion. Conversion rate optimization is about moving people through your marketing funnel, turning them from prospects into raving, repeat customers"
So the first step to creating your funnel is coming up with a free offer that provides value to the reader. In exchange for the downloadable, the visitor provides their email address which you can then market to.
Create your offer
If you already have something you previously worked on then you're pretty much set here (an ebook, a product, a service, etc.) Just be sure it conveys the expected value to your audience, and has a compelling copy wrapped around it (on emails, landing pages, CTAs, ads, social posts, etc.) so people will want to exchange their email and/or money for it.
If you don't have something ready and are just now starting, focus on creating something that will offer value to your target audience. It doesn't need to be extravagant, it doesn't need to be perfect to the Nth degree, it just needs to be something that is worth their time and email.
This can be a simple checklist, an infographic, a few slides you created on something that solves a particular problem, a list of tips, etc. We can get into offer creation another time, let us know if you're interested in the comments below.
Bonus tip: There's a "golden rule" of 1+1=3. Not everything you create needs to be from scratch. Let's say you already have an amazing post you created a while back, this can be broken down into pieces and be made into a checklist, a video, a template, an small ebook or PDF. The sky is the limit, as long as you are creative. Work smarter, not harder.
Create CTAs, Landing Pages and Thank You Pages
There is no benefit to having emails without a list though is there? It's now time to start generating some leads. What you will need here are CTAs (calls to action,) landing pages, and thank you pages.
Let's begin with CTAs. These are usually the buttons or images often found on blog posts telling you to download something, subscribe for something, buy something, etc. If you want to start generating your list and get some emails, this is where you will need to start.
When creating CTAs be sure that your button is compelling, has actionable but concise text, and most importantly, make sure it stands out from the rest of the content on your page.
If CTAs grab your audience's attention, the landing page is what is going to get them to give you their email (or even convert.) Here make sure the form is easy to find and fill out. Furthermore, be sure to have compelling text explaining the value of what your audience is exchanging their information for. Descriptions here can be a bit longer, but in most cases you should be fine with around 200-300 words.
On the landing page make sure that everything has been optimized, no copy errors occur, forms are working properly and correctly link to the offer, or thank you page.
Bonus tip: Never add any other links to the landing page, you want as few distractions as possible here. Everything should focus on getting your audience to submit their information. Additional links and info can always be added to the Thank You Page.
On the thank you page, be sure that the download link provides the correct offer you promised, and all links to additional pages or posts you want to direct your audience to are working properly and not sending them to a 404.
Finally, place your CTAs on all the spots you want on your website. Make sure everything is connected and running as planned. (CTA to landing page – once they fill out the form – landing page to thank you page.)
Now that you have your first funnel built out, make sure everything has been tested and works properly.
Day 23 – Analyze
It's been a little over 2 weeks since you started SEO and search engine crawlers have had time to go through your site and rate it. It is now time to analyze your performance. Using the tools of your choice it's now time to look at:
Organic traffic: How is your traffic looking? Is it showing a steady incline or decline? Is it where you were hoping to be?

Measure your current state to where you were projecting to be by the end of the first month. Take note, as you will need to compare Month 2 vs Month 1 moving forward.

Your audience: Is the traffic you are getting being generated by the audience members in your Persona or is it different? Its important here to see if you are attracting the right people early on. If you are not, perhaps it's time to revisit your keywords and find ones that better illustrate your target audience's intent.
Your keywords: Are you currently ranking for the keywords you hoped for? Which keywords are performing the best? Have you gained any new keywords Google is ranking you for?
Your content: Which articles are currently performing the best? Why? If things are going well don't set them and forget them. Why are these articles doing so well?

Did you do something different? Can you apply anything from these articles to boost ones that are currently underperforming?

Your leads: Have you started to generate online leads / emails? Are visitors interested in your offerings? Which offer is currently performing the best? Why?

As with the posts above, try to see what you can learn from offers that are currently performing better than others. What are your next steps once people become leads? Are they ready to be sold to? Do they still need some warming up?

Your backlinks: Have you stared to generate links from external websites? Are they high quality links? If the some links you are receiving are low in quality consider reaching out to the owner of that domain and kindly asking for them to remove the link. If they do not wish to comply you can always disavow the link via Google's Search Console we mentioned previously.
Additional Resources
---
And there you have it! Everything you need to know to start building a successful business in under 30 days.
Do you have any questions? Are there areas in which you would like us to dig into more detail? Let us know in the comments below, and stay tuned as we will be adding bonus tips in the weeks to come!
Recommended Reading: