If you don't have a social media marketing strategy for your new business, don't worry. There's so many other things you have to do like setting up a website, your first funnel, and getting initial traffic.
But what if there was a way to be efficient while juggling all these responsibilities? What if you're able to tap into the billions of monthly active users across social media, and help grow traffic and awareness to your site?
Benefits of Social Media for Your Business
Increase brand awareness
Humanize your brand, and develop trust with your audience
Push traffic to your website
Generate leads and ultimately boosting sales
Tap into influencers for effective, fast growth
Ability to go viral
And much more…
In case you missed it: 7 Social Media Trends to Watch for in 2019
How to Kick-start Social Media for Your Business
The first thing you have to ask yourself is, what do we want to accomplish with social media? What are our goals and objectives? If you're a new business, then it might be:
Generating 500 new visitors per week the first month we're launched
Generate 5 leads through Twitter, Facebook, and Instagram
Generate 100 total engagement across all social media accounts
Grow 100 followers per week through social media publishing
You want to make sure you quantify what you're trying to achieve. We have a motto here we swear by, "Serendipity is not a growth strategy." The reason we quantify these metrics is so we can see how much work needs to get done in order to achieve the results we set out for ourselves.
Putting Social Media on Autopilot
To do all this work, it would take you hours. Since we're big advocates on increasing efficiency, while saving us time to focus on other parts of our business, we turn to business tools
30 Best Business Tools to Grow Your Side Hustle
One of our favorite social media tools to help kick-start our growth is Agora Pulse. If you're unfamiliar with Agora Pulse, this tool helps simply and manage your social media.
The first thing you want to do is sign up for a trial. Agora Pulse offers 15 days for free and allows you to connect up to 10 social accounts. You can publish on your:
Facebook Pages
Facebook Groups
Twitter Profiles
YouTube Channels
Instagram Profiles
LinkedIn Profiles
Scheduling Posts
Agora Pulse makes it extremely simple to schedule your posts. Instead of doing the heavy lifting of publishing content to each individual channel, you can take one message and publish it across all your connected channels at the same time!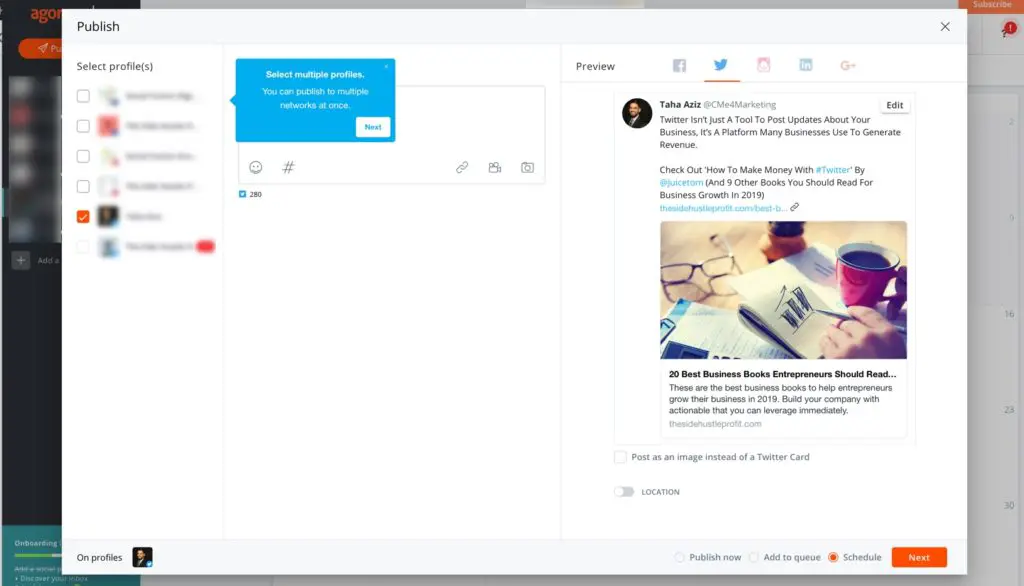 Let's say you have a new blog post out, with just a few clicks, you can have the post promoted across LinkedIn, Twitter, Facebook, and even Instagram!
Our team likes to do this planning on the weekend. You can schedule unlimited number of posts for the whole week, month, and even year if you want!
Additional reading: How Often Should You Post on Social Media in 2019?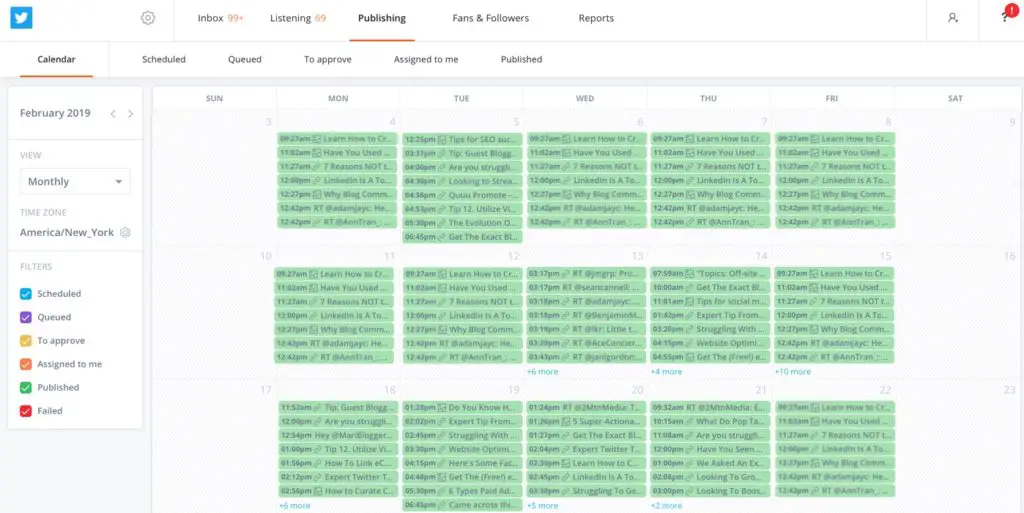 …Great scheduling calendar, makes it super easy to see everything at-a-glance, so you know if you missed any days that posts could go up…

Review by Kerilyn L
If you've just started your new business, this is a good place to start digging into. Try to understand what your audience would want to see on social media, and don't forget about your objective.
Since you know what kind of results you want, how many Tweets or posts will get you there? What kind of content should you promote to help you generate the engagement you're trying to achieve?
Social media marketing can be very beneficial for businesses if strategically integrated in your approach. We'll be continuing this series with social media tactics, so be sure to sign up for our newsletters! If you have any questions or enjoy our content, leave a comment below.