Every online business looks to generate more traffic, leads, and sales. Whether it's through Facebook Ad campaigns, partnering with other companies, or rolling out a strategic SEO campaign, not all traffic generates the same results. Sometimes, business owners buy website traffic and generate zero results… Why?
We live in an era that has a ton of fake activity. What we mean by this are placeholder elements that seem real to the eye. Remember the controversy last year with Twitter? A New York Times article uncovered a business that sold fake followers, retweets, and likes.
Overnight, celebrities such as NFL legend Ray Lewis and tech billionaire Michael Dell, lost hundreds of thousands of followers – call it the Twitter Purge if you will. And this isn't something you want Google to see, (if you don't remember, Google has over 200 ranking factors that include social media.)
1. Driving Traffic from Medium
Medium is a platform to publish content even if you already have a blog. It's been around since 2012 and was created by Twitter's original founds, Ev Williams and Biz Stone.
With over an estimated 225 million monthly viewers, this site is used to share ideas, interact with other authors, and has the ability to create your own publication on any topic.
So how does this benefit you and drive traffic to your website? Simple! You can republish any existing article on this site without getting penalized by Google for duplicate content. If you're unfamiliar with the concept, it's called content syndication.
If you're curious, here's a step-by-step guide to implement content syndication for your own business.
Essentially, this allows you to upload content, with hyperlinks and call-to-actions, on their site. It's important to know these links are "no-follow" links which mean Google doesn't consider it much when it comes to SEO.
But the trade off doesn't seem so bad… Potentially get in front of thousands of targeted viewers in exchange for a no-follow link? I'll take that before I buy website traffic any day!
Once your content is published, it's easy to engage with other users on the platform. The more you engage and put in to building a community, the more benefits you'll see.
How to Syndicate Content on Medium
After you create a free account, (you can connect it with your Google Account, Twitter, or sign up via email,) click on your name and you'll see an option for 'Stories'.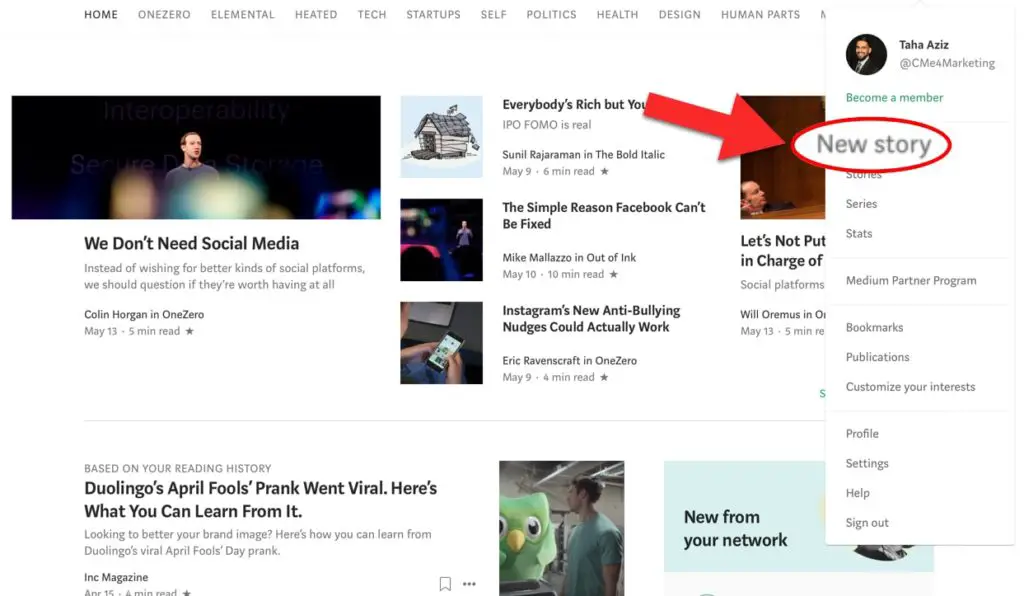 ---

The next steps are easy:
Add the URL of the blog post you want to syndicate on Medium
Clean the formatting (it should take a couple of minutes
Hit publish!
It's really that simple, here's an example we did to show you how it works. We syndicated one of our latest posts about Instagram on Medium.
Click here to see the original post
Click here to see the post on Medium
Just because you published on Medium doesn't mean it's going to magically appear on the first page of their site. If you want to learn more about the best practices on publishing on the site, check out this post by Ryan McCready.
| | | |
| --- | --- | --- |
| Effort | Time | Expected Results |
| Medium | Medium | High |
2. Answering Questions on Quora
Your business goals ideally should answer a pain, need, or interest your audience has. So why not get in front of the ones asking questions? Building high quality traffic from SEO takes time, but what about getting in front of people asking questions in real time?
Quora is a question and answer network allows you to help others on any subject from A to Z. This leading-edge marketer was able to generate 9872 targeted website traffic views in one month by demonstrating his expertise in his industry
Quora Best Practices
To start off, create an optimized profile on the platform and start following topics and subject your target audience would be following. Let's take a look at this example about generating leads through video content.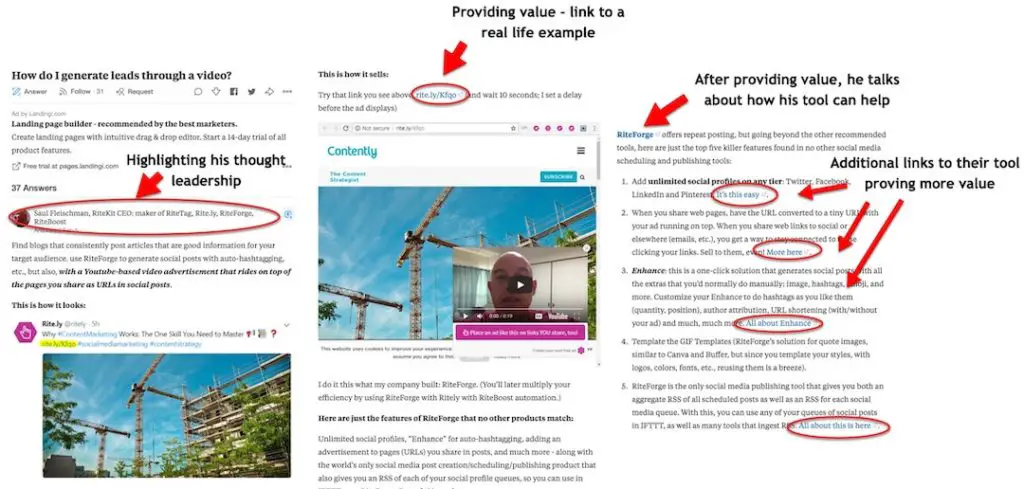 We can see that Saul Fleischman is providing an answer to someone who fits his target audience. One of the benefits his tool provides is the ability to generate leads by promoting anyone's website. He provides step-by-step instructions and finds natural ways to promote his business and tool.
Another benefit of Quora is that questions are sometimes picked up on Google searches. Not only will you pop up on Quora, but on Google as well. Beats spending money to buy website traffic, doesn't it?
| | | |
| --- | --- | --- |
| Effort | Time | Expected Results |
| Medium | Medium | High |
---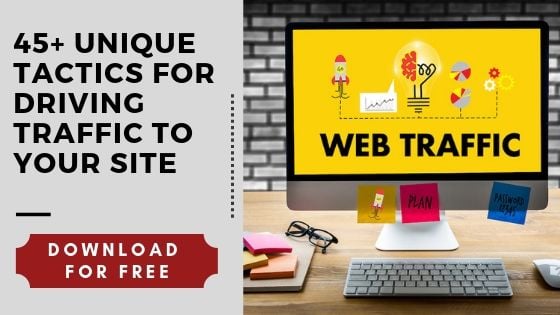 3. Submitting Your Website to Social Bookmarking Sites
For those unfamiliar, social bookmarking websites are places where users share their latest blog posts, articles, images, and videos. Some of the benefits include generating backlinks, more awareness to your business, and website traffic.
The more search engines see your website mentioned online, the better. If you're Google, would you want to rank content from a popular source or a less known brand?
How Do Social Bookmarking Sites Work?
It's relatively very easy to; let's use the site Digg for this example. As the site puts it, "Digg is the homepage of the internet, featuring the best articles, videos, and original content that the web is talking about right now."
To submit a published piece of content, first visit: digg.com/submit. Then, all you need to do is enter the link to your article and click submit!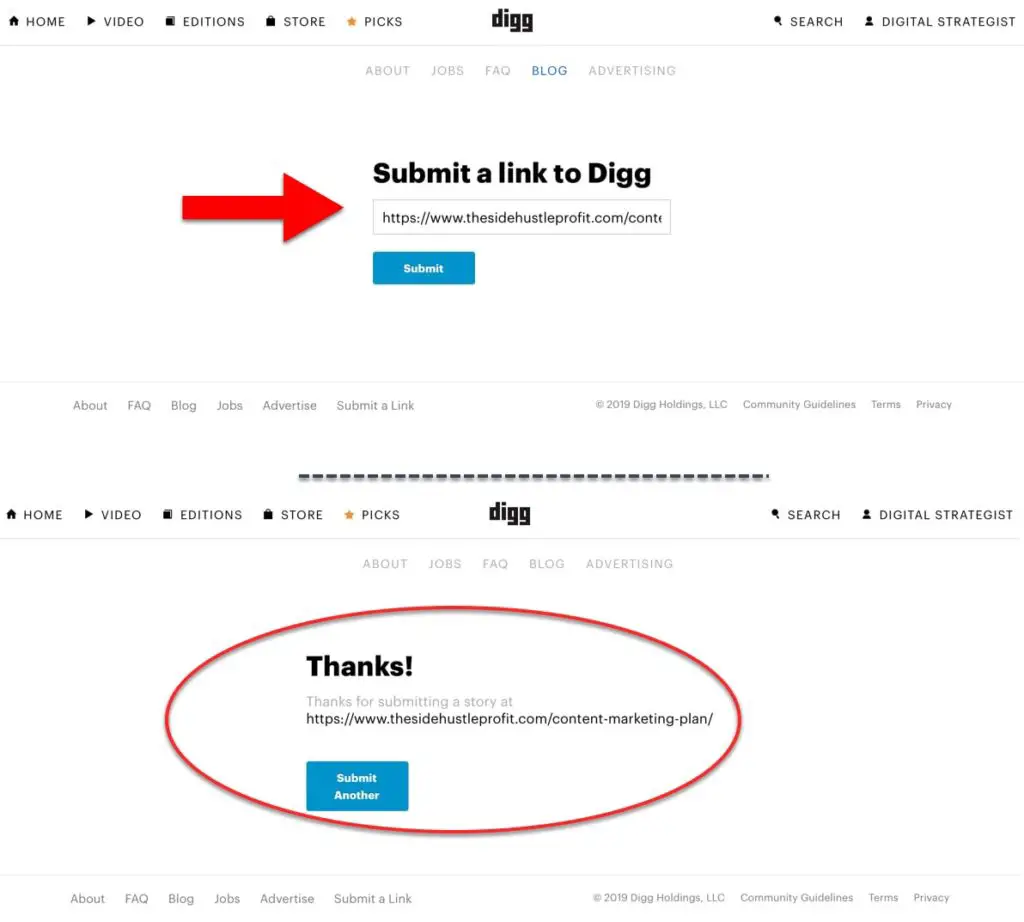 Using Digg and other social bookmarking sites aren't going to bring you hundreds of new targeted views, but they are good to leverage if you're just starting a new business. Unless you have really unique or viral content, don't expect to get on the first page of Digg.
With our test, we saw an average for 15-20 new visits from using the Digg platform. For a list of 50+ social bookmarking sites, check out this page by Search Engine Journal.
| | | |
| --- | --- | --- |
| Effort | Time | Expected Results |
| Low | Low | Low |
---
4. Publish a Case Study
In the context of digital marketing, case studies provide the reader to learn from the author. It allows a business to share how they had a need or problem and the steps they took to generate a result. Take this case study we published a little while back…
Quuu Promote, is It Worth It? – We Tried It and Here Are Our Results
In this case study, we tested a tool called Quuu Promote. This marketing tool helps share your content across multiple social channels across Twitter, Facebook, and LinkedIn.
We wanted to know if it was worth $75 to boost our content, and decided to share the results with our readers. We figured, if we had questions about the tool, others must too (and we weren't wrong, check out the organic growth we generated from one single post!)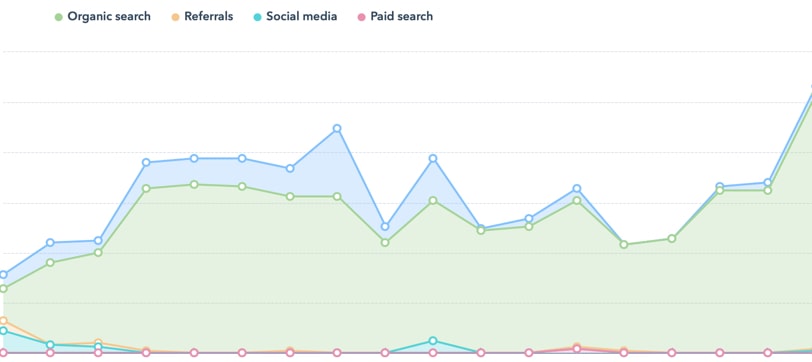 If you've accomplished something significant in your industry, consider writing a case study on the topic. Focusing on the reader's pain, need, or interest is the recipe for success when it comes to case studies.
| | | |
| --- | --- | --- |
| Effort | Time | Expected Results |
| Medium | Medium | High |
---
5. Guest Blogging
Guest blogging is one of the most effective ways generate targeted online traffic. Not only do you not have to buy website traffic, you're generating a backlink in the process which is a huge win for Google!
Take this for example, you own a bakery in your hometown and you're looking to generate more online visibility. One of the local news publications opened up opportunities for guest posting, mainly around topics for "Things To Do" in the town.
How beneficial do you think would it be to submit a post about "The 5 best places to get cupcakes" and include your bakery in it? It would probably be tremendous! Not only are you getting new targeted traffic, you're also generating backlinks and building business relationships!
Guest posting isn't easy however, and not all publications allow you to guest post on their site. For the ultimate guide to guest blogging, check out this post by Neil Patel.
| | | |
| --- | --- | --- |
| Effort | Time | Expected Results |
| High | High | High |
---
If you're eager to buy website traffic, we get it and we don't blame you. But remember, Rome wasn't built in one day so consider using the tactics highlighted above! It starts with the small steps, just like digital marketing success. What may work for one person's business, may not work for someone else's. That's why we created 45+ tactics for driving traffic to your site. Click the button below to grab your copy for free today!