It has become a tradition for some time now, that towards the start of each month we come to you with our top picks of tools we think you should look into if you want to accelerate your online business. This time, however, we will be doing something different…
This time we would like to share some of our team's most favorite podcasts focusing on interviews, tips, tricks, lessons learned from failures, and actionable insight you can leverage to grow your business online.
It doesn't matter if you are an entrepreneur, small-medium business owner, or a seasoned veteran in your industry; all of the following podcasts have something meaningful to offer. In no particular order, here are our top 10.
1. Entrepreneurs on Fire (Fire Nation)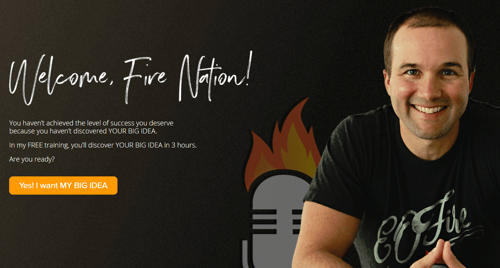 Hosted by John Lee Dumas, Entrepreneur on Fire is a podcast that belongs on this list. For over 2,000 episodes, John brings on and interviews very successful entrepreneurs and SMB owners from almost every industry, ranging from tech to art. With such diversity, the chances of finding someone talking about your niche are very high. Finally, another reason we love this podcast is because each episode length hits that sweet spot of 30min; not too long, but still long enough to provide the right amount of value per session.
2. Eventual Millionaire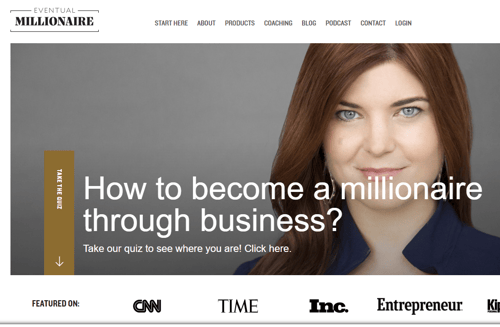 Each week Jaime Masters invites entrepreneurs turned-millionaires to ask them about lessons learned from their failures, and how they eventually rose to where they are today. At 45 minutes per episode, each session is full of interesting stories, ideas, and relatable scenarios everyone can learn from. You can find all the episodes here.
3. Online Marketing Made Easy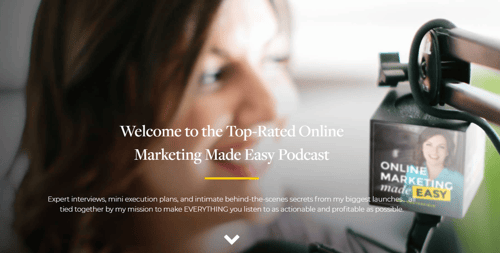 We all entered the digital world with 2 main aspirations, to grow and to generate revenue; and this podcast focuses on exactly that. Join Amy Porterfield (co-author of Facebook Marketing All in One for Dummies) each week as she invites a guest to discuss and explore various ways you can monetize your business online with content creation, marketing, social media etc. Her episodes lie in that sweet spot of 30-45 minutes each, just enough time for everything to be consumed in one sitting.
4. Business Insanity Talk Radio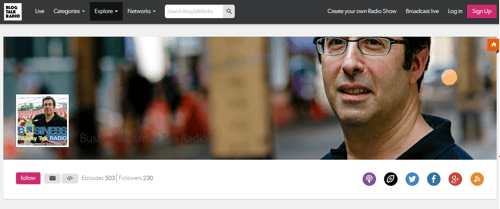 Moving on to slightly longer episodes, Business Insanity Talk Radio is hosted by Barry Moltz and runs just shy of an hour per episode. Having founded and run multiple small businesses in the past 15 years, Barry is definitely someone that can share his 2 cents with anyone struggling to grow online. He is not limited to sharing his own stories as all of his 500+ episodes are centered on interviewing guest speakers. Each session usually involves interviewing 5 guests (all from different disciplines) about varied topics in order to provide as much coverage for listeners tuning in each week. You can either break each episode into 5 segments (for each speaker) or sit back for about an hour and let all the insight sink in, the choice is yours.
5. Smart Passive Income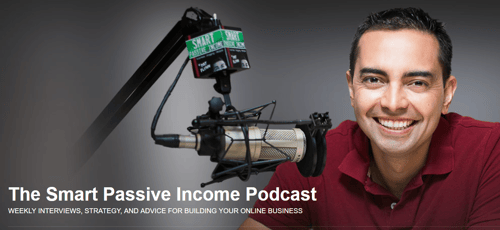 Created and hosted by Pat Flynn, Smart Passive Income is among the best podcasts for optimizing your business to constantly generate passive income (even if it is on the side.) In these episodes, Pat interviews many successful SMB owners and founders on what they discovered throughout their career. Learn what they did, what mistakes they made, what they did to reach the level of success they are currently at.
If interviews are not your thing, Pat has another really interesting podcast called Ask Pat where he spends each episode answering 1 question submitted by actual listeners (these usually regard online business, entrepreneurship, internet marketing, audience building, passive income, blogging, list building, virtual assistants, startups, search engine optimization, email marketing and much more.)
6. Growth Everywhere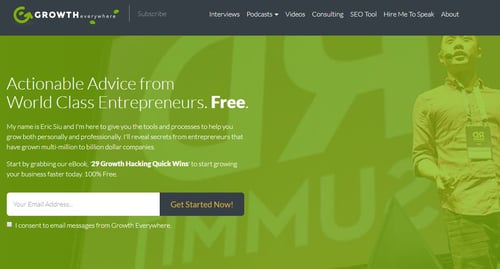 Growth Everywhere is a weekly show hosted by Eric Siu. Once again falling in that nice 30-45 minute sweet spot, Eric invites entrepreneurs and digital marketers to talk about their business experience. These interviews are by no means one-sided, and are filled with actionable insight and interesting ideas by both the host and guest speaker. This is definitely a podcast you should add to your list.
7. Enter Leadership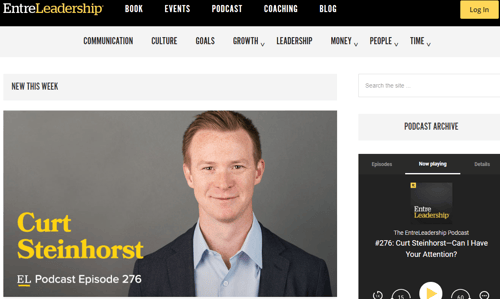 Hosted by Ken Coleman, Enter Leadership is a podcast that focuses on a lively discussion with some of the industry's biggest personalities about everything regarding business and leadership. Some of these influential names include Mark Cuban, Seth Godin, Jim Collins and Simon Sinek, as they share their unique point of view and of course their insight in an interesting dialogue with the host. At about 45 minutes per episode, each session provides enough value to have you coming back for more.
8. Mixergy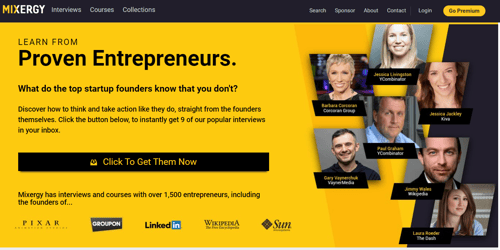 With over 1,500 episodes, of about an hour each, this podcast is a must for anyone wishing to sit back, take notes, and let the value just sink in. Hosted by Andrew Warner, the show focuses on inviting and interviewing SMB owners that have managed to "hit the nail on the head" when it came to creating products their audience actually wanted. There are also episodes that focus on how to get celebrities and influencers to endorse a brand or product. All in all, this podcast is a great listen, no matter what level of business you are currently in.
9. Duct Tape Marketing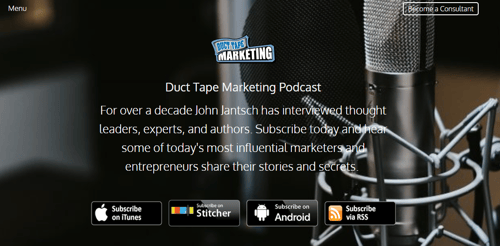 While still guest-centric, this podcast is somewhat different from the rest of the list in that it focuses more on higher level topics, and less on general tactics and strategies that worked for guests. Each 30-minute episode focuses on a very specific topic which is unraveled in detail in a dialogue with the guest speaker (who often is a well-respected name in the industry or SMB owners who found great success in the past.)
10. Marketing School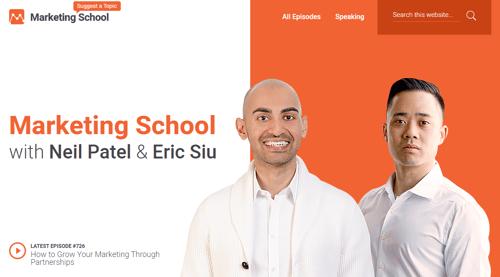 Last but most definitely not least, Marketing School is one of the fastest growing podcasts and is only about a year old. Hosted by Neil Patel and Eric Siu, this show is like no other on the list. Instead of bringing in a guest and interviewing them for 30-60 minutes, they interview each other (both being seasoned experts themselves) about various topics, all related to online growth. What is best about these episodes is that they are short (only 10 minutes long), concise, and to the point, so you can enjoy them during a coffee break, a lunch break at work, or at any other time during the day.
And there you have it. Our top podcast picks. Which podcasts do you enjoy the most? Are there any shows you think should be on our list? Let us know!
Before we go…
If you are interested in starting your own podcast be sure to check out this free infographic we put together for you:

Share this Image On Your Site
Enjoy our content? Be sure to follow us on Facebook and Twitter. For more reading on how you can make an impact with your online marketing, see the links below, and as always, feel free to join our Facebook Group.